My Blog
Posts for: February, 2021
By DeMarco Family Dental
February 20, 2021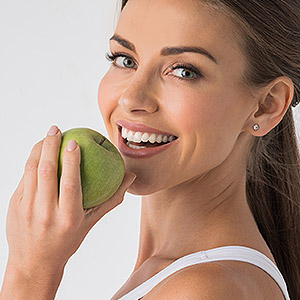 You're more apt to lose teeth because of periodontal (gum) disease and tooth decay than any other cause. But neither of these bacterial diseases have to happen: You can prevent them through daily brushing and flossing and twice-a-year dental cleanings.
But that's not all: You can also boost your dental care practices by eating foods that strengthen and protect teeth. On the other hand, a poor diet could reduce the effectiveness of your oral hygiene practices in preventing tooth decay or gum disease.
A diet that might lead to the latter is often high in refined sugar (sucrose), often added to processed foods and snacks to improve taste. But sucrose is also a top food source for oral bacteria, increasing their numbers when it's readily available. A higher bacterial population greatly increases your risk for tooth decay or gum disease.
On the other hand, certain foods benefit your overall dental health. Fresh fruits and vegetables, for example, are filled with nutrients and minerals like vitamin D or calcium that strengthen teeth against disease. And although they can also contain natural sugars, these don't pose the same problems as added sucrose due to the plant fiber you consume with them.
Dairy foods can also help you maintain healthy teeth and gums. Milk and cheese contain minerals like calcium and phosphorus, and a protein called casein, all of which strengthen teeth against decay. The enzymes in cheese stimulate saliva, which in turn neutralizes mouth acid and prevent it from harming enamel.
Some foods are also natural sources of fluoride, a mineral that strengthens tooth enamel. One example is black tea, which also, along with green tea, contains antioxidants that protect against cancer.
The best strategy for "tooth-friendly" nutrition is to pursue a diet that's high in fiber-rich natural foods and low in sugar-added processed foods. In practice, you'll want most of your diet to consist of fresh fruits and vegetables and low-fat dairy food, while minimizing foods with added sugar.
Following this kind of diet will certainly benefit your overall health. But it will also make it easier for you to prevent dental disease and keep your teeth and gums healthy.
If you would like more information on how nutrition can boost your dental health, please contact us or schedule an appointment for a consultation. You can also learn more about this topic by reading the Dear Doctor magazine article "Nutrition & Oral Health."
By DeMarco Family Dental
February 10, 2021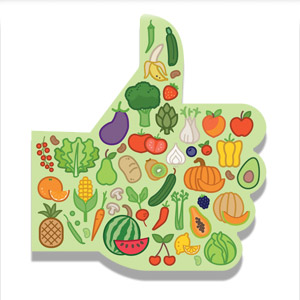 There are great health benefits to eating better, including for your teeth and gums. But to determine your ideal diet, you'll have to come to terms with carbohydrates, the sugars, fiber and starches found in plants or dairy products that convert to glucose after digestion.
Carbohydrates (also known as carbs) are important because the glucose created from them supplies energy and regulates metabolism in the body's cells. But they can also create elevated spikes of glucose in the bloodstream that can cause chronic inflammation. Besides conditions like diabetes or heart disease, chronic inflammation also increases your risk of periodontal (gum) disease, a bacterial infection arising from dental plaque.
Many concerned about this effect choose either to severely restrict carbs in their diet or cut them out altogether. But these hardline approaches deprive you of the benefits of carbs in maintaining good health. There's a better way—and it starts with understanding that not all carbs are the same. And, one difference in particular can help you properly manage them in your diet.
Here's the key: Different carbs convert to glucose at different digestive rates of speed measured on a scale known as the glycemic index. Carbs that digest faster (and are more apt to cause glucose spikes in the bloodstream) are known as high glycemic. Those which are slower are known as low glycemic.
Your basic strategy then to avoid blood glucose spikes is to eat more low glycemic foods and less high glycemic. Foods low on the glycemic index contain complex, unrefined carbohydrates like most vegetables, greens, legumes, nuts or whole grains. High glycemic foods tend to be processed or refined with added sugar like pastries, white rice, or mashed potatoes.
Low glycemic foods also tend to have higher amounts of minerals and nutrients necessary for healthy mouths and bodies. And fresh vegetables in particular often contain high amounts of fiber, which slows down the digestion of the accompanying carbohydrates.
Eating mainly low glycemic foods can provide you the right kinds of carbs needed to keep your body healthy while avoiding glucose spikes that lead to inflammation. You're also much less likely to experience gum disease and maintain a healthy mouth.
If you would like more information on nutrition and dental health, please contact us or schedule an appointment for a consultation. You can also learn more about this topic by reading the Dear Doctor magazine article "Carbohydrates Linked to Gum Disease."